Remembrance Day – High River Legion Poppy Fund Donations

Poppy & Remembrance
Each year, on the eleventh hour on the eleventh day of the eleventh month, we observe Remembrance Day across Canada. Every year we gather in community halls, memorial parks, schools, living rooms and more to observe a moment of silence and to mark the sacrifice and honour of so many.
Honouring the Past
As part of our Mission, The High River Legion strives to ensure that the deeds of those who fell are not forgotten. Whether it is through our promotion and organization of Remembrance Day events across the country (including the National Remembrance Day Ceremony3 in Ottawa), our annual Poppy Campaign4, the creation and care of memorials like the Tomb of the Unknown Soldier, the preservation of the records and memories of fallen heroes, youth education or many of the other activities we are involved in, we honour the past.
Respecting the Present
Of course, it is not only to honour the fallen that we observe Remembrance Day each and every year. As part of our observance, we also acknowledge the courage and sacrifice of both the Veterans including currently serving. In fact, through the generosity of Canadians who take part in our Poppy Campaign5, we are able to serve Veterans and their families on a daily basis. With a number of advocacy6 efforts and member services7, we ensure that they are cared for and treated with the respect they deserve.
Fostering the Future
Summarizing the fear of Lieutenant-Colonel John McCrae in 1915 that he, like so many others, would be forgotten and their death would be in vain, "In Flanders Fields", like the poppies it speaks of, has grown to be a part of not only the thoughts of soldiers, but also those who honour them. Continuing to educate youth8 through Lieutenant-Colonel John McCrae and his famous work, along with many other programs9, ensures that Remembrance holds meaning each and every day, not just on the eleventh hour of the eleventh day of the eleventh month.
The 2019 Poppy Campaign was chaired by Louise Hughes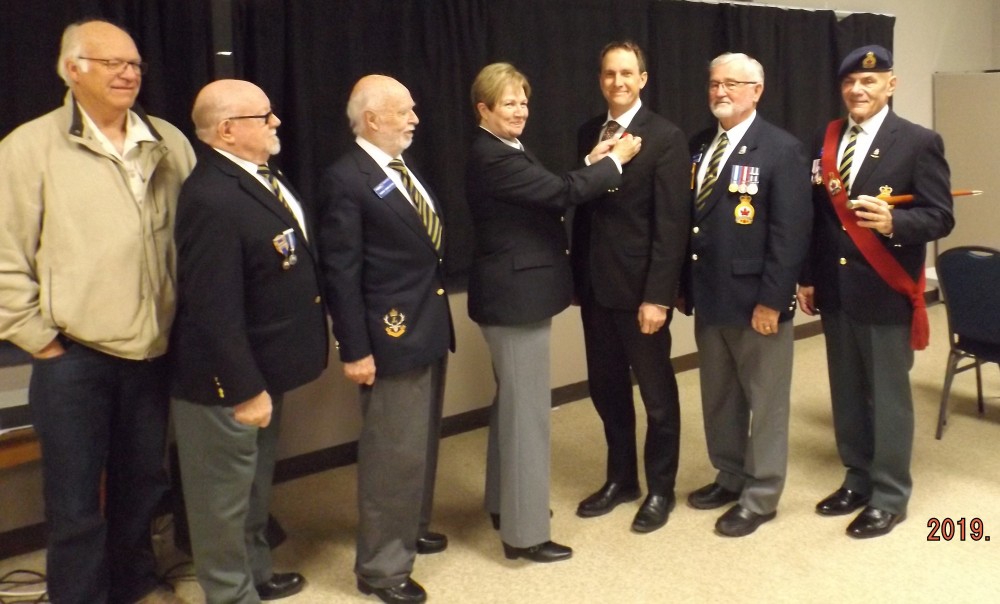 2018-2019 Poppy Campaign Newspaper Report >
Thank you for the Poppy Display

Left to right: Gail King, Eunice Schmuland and
Merridell Richardson
This Spring, a resident of High River, Merridell Richardson, attended a meeting of our Poppy Committee with an idea to honour our Veterans by decorating the Legion with knitted/crocheted poppies. She had already spoken to many residents of our community and had already received several of these poppies. We were pleased that this group was wanting to participate in this way and agreed with their project.
On October 29th, 2019, the pictured displays were hung for the Remembrance Day period, both on the Royal Canadian Legion High River Branch #71 and the Highwood Memorial Centre, where we hold our Remembrance Day Service. The initial group consisted of Merridell Richardson, Gail King and Eunice Schmuland but grew to a group of participants that is too large to name without missing someone.
The High River Legion would like to thank everyone who participated in honouring our Veterans with this beautiful display and look forward to next year's displays.

---
Fallen Heroes
They shall grow not old, as that are left grow old:
Age shall not weary them, nor the years condemn.
At the going down of the sun and in the morning
We will remember them
We will remember them
Freedom Costs
First World War 628,736 served, 66,573 killed, 138,166 wounded
Second World War 1,081,865 served, 44,927 killed, 53,145 wounded
Korea 26,791 served, 516 killed, 1,558 wounded
Vietnam (under US Forces) 12,000 served, 110 killed
UN Peacekeeping Missions 125,000 served, 110 killed
The Gulf War 4074 served no casualties
Afghanistan (to Dec. 2011) 158 killed, 1859 wounded